642911 McCollough Lake Rd Chatsworth, ON
add to favorites
Total 48 Acre land
The Drawing below is only 25 acres of the land .
We have provisioned an ESSO, TIM HORTONS , ON THE RUN and a STRIP PLAZA .
A 4 storey retirement residence surrounded by ravine .
A 136 units detached home subdivision which was approved in 1989 and the city will still honour it as it stands .
The remaining 25 acres could be used for boat storage along with many other potential which I have not explored as of yet.
Asking price , $1,299,000
With only $700K down and VTB for the rest at 4.99% for 3 years .
The owner have done pre submissions with city and have the Ok from MTO as well as we have had discussion with Esso and Tim Horton' s and they have a high interest in the location.
PROJECT DETAILS
• 49 acre lot in the County of Grey.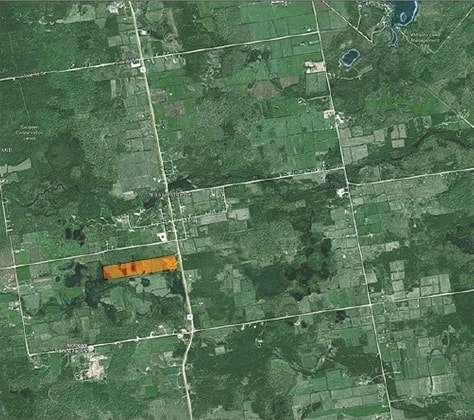 • Plan calls for the development of 26 acres, while the other 24 acres could be used for boat storage, open space, etc.
• 136 residential units and a 4-storev retirement residence proposed, as well as a station and a small retail plaza
• Walking paths and parkettes will be incorporated into the site plan
• Currently vacant residential land
• Most developments in the area are a mix of low-rise residential & commercial
ZONING INFORMATION
• The Official Plan of the County of Grey designates the west portion of the property as being within a Secondary Settlement Area and the east portion as Rural, with the the wooded area as Significant Woodland
• Secondary Settlement Areas permit the following uses (2.6.4(2)): residential uses, bed and breakfast establishments, home/rural occupations, commercial and dry industrial uses, public recreational and institutional uses intended to support the surrounding agriculture community
• The zoning for the property contains an A2 Restricted Rural zone with a C1-64 zone amended which permits a retail mini mall with a maximum of 6 retail units
• The Official Plan permits the proposed development
[/vc_column_text][/vc_column][/vc_row]
Address: 642911 McCollough Lake Rd Chatsworth, ON
Zip: N0H 1G0
Country: Canada
Open In Google Maps
Property Id : 23665
Price: $ 1,299,000
Structure Type: Brick
Floors No: 1
My details
Broker of Record
Contact Me
Schedule a showing?